Full-Service Coin-Laundry
Safe, comfortable & friendly.
The Laundry Tub in St. Catharines is pleased to offer area residents a conveniently located, safe, full-service coin-operated laundry facility.
You'll love our fully staffed, safe and comfortable environment. Watch our large screen TV, read a magazine or enjoy our complimentary WiFi while you relax and do your laundry. We offer a comfortable waiting area, the fastest washers and dryers available, and the flexibility of doing your own laundry or having us do it for you with our Wash, Dry & Fold service. For added convenience we are a dry cleaning depot for Arctic Cleaners.
Owned and operated by a family with more than 30 years of collective laundry experience, The Laundry Tub provides a clean, safe and enjoyable space for students and families to do laundry.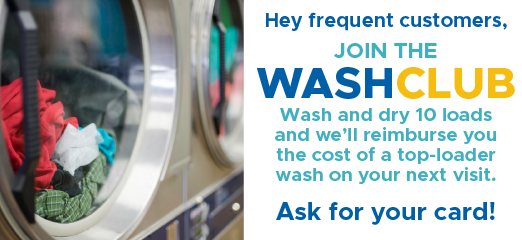 Friendly, clean spaces
Fast, efficient washers and dryers
Attendant on duty with plenty of change
Dry-cleaning depot for Arctic Cleaners
We accept Debit, Visa and Mastercard
Free WiFi
Flat screen TV for your enjoyment
Ample seating
Soft drink machine
Fresh drinking water
Soap and softeners dispensing machine
Plenty of free parking
Our Large Capacity Washers
We have from 15-40 lb. washers which
can accommodate large items like
comforters, duvets and sleeping bags.
PROFESSIONAL LAUNDRY SERVICES